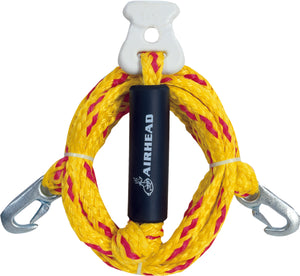 Heavy Duty Boat Tow Harness
Are you looking for a tow harness to use with troublesome tow points? Airhead's Heavy Duty Tow Harness will solve all your problems—and make towing more efficient than ever!
This 5,000-pound tensile strength tow harness is perfect for pulling a skier, wake boarder, knee boarder, or up to 4 rider towables. Simply clip it onto your boat and attach your ski, board, or tube rope to the heavy duty Kwik-Connect system. With a break strength of 5,000 pounds, this is the go-to harness you need for large towable water tubes. The 6" float ensures that the Kwik-Connect stays above water, and away from your propeller. 
Fast & EZ Kwik-Connect Rope Attachment 
For Boats Without Ski Eyes or Pylons
Great for Pontoons and Larger Boats 
12ft Long
1/2'' Hook Opening Width