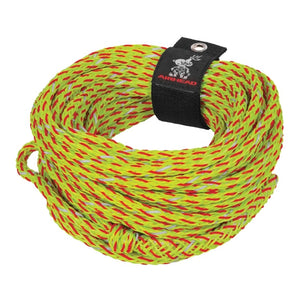 High-Visibility Rope for Towable Tubes
Add safety and convenience to your tubing days with the Reflective 2 Rider Tow Rope. A reflective material strand runs the full length to increase visibility in low light conditions. Great for those dawn and dusk low light watersports excursions! 

Another reason to love the Reflective 2 Rider rope for tubing is that it's 60 feet long, UV resistant with minimal stretch, and the EVA foam core enhances flotation, meaning you can always find it on the water's surface and out of your prop! 

Whether you shine on the lake or sparkle at the sea, this rope is guaranteed to make you feel glamorous while you're speeding in your pull behind the tube.
Features:
Designed for 1 to 2 rider towables
2,375 lb break strength
EVA foam core for enhanced flotation
Bling: These ropes sparkle in the sun and glow at twilight to increase visibility in the water
UV Resistant
60 Ft
16 Strand